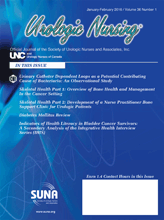 Urologic Nursing, the official journal of the Society of Urologic Nurses and Associates (SUNA), presents the latest advances in urologic nursing practice. Written by and for urologic nurses and associates, Urologic Nursing features clinical articles covering a variety of urologic issues and clinical procedures. Patient education techniques, research findings, ethical issues, and current trends in this expanding clinical nursing specialty also are included. Published six times a year.
---
Highlights from Current Issue ~ November/December 2019
Optimizing Antibiotic Management for Acute Simple Cystitis In Women: An Evidence-Based Roadmap for the Primary Care Ambulatory Setting ~ CNE
Bone Health Assessment in Men on Androgen Deprivation Therapy For Prostate Cancer: A Nurse Practitioner-Led Quality Improvement Protocol ~ CNE
Implementing a Multimodal Prehabilitation Program Prior to Radical Cystectomy in a Comprehensive Cancer Center: A Pilot Study To Assess Feasibility and Outcomes ~ CNE
2019 SUNA uroLogic Conference Poster Abstracts
Special Issues in Urology Nursing ~ Developing a Nurse Practitioner-Directed Overactive Bladder
Program
Access content from the current issue as well as back issues of the journal in the SUNA Online Library.
---
Manuscript Submissions
Interested in submitting a manuscript for consideration in the journal? Review the Guidelines for Authors and submit your manuscript to: uronsg@ajj.com
Review Suggested Manuscript Topics
---
Online Journal Archive
Urologic Nursing journal articles (2010 to current) are available in SUNA's Online Library. SUNA members have free access to the journal articles. Nonmembers can access journal content for a fee.
Thank you to the Chicago Metro, Dallas-Fort Worth, and Mississippi Valley Chapters of SUNA for sponsoring the online journal repository for 2019.
---
CNE Articles/Evaluations
To earn continuing nursing education (CNE) contact hours for journal articles, read the article and complete the evaluation in the SUNA Online Library. CNE certificates are available immediately upon successful completion of the evaluation.
Article Price: SUNA Members - Free, Nonmembers - $15
CNE Evaluation Price: $15