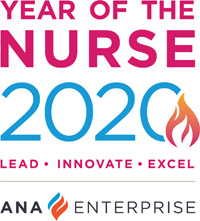 The World Health Assembly has designated 2020 the International Year of the Nurse and the Midwife to honor of the 200th anniversary of Florence Nightingale's birth and to advance nurses' vital role in transforming health care around the world. In the United States, the American Nurses Association will celebrate the Year of the Nurse by engaging with nurses, leaders, and partner organizations to promote nursing excellence and innovation as well as spotlight the critical work of nurses.
---
WHO Releases State of the World's Nursing Report 2020
On April 7, 2020, the World Health Organization (WHO), in partnership with the International Council of Nurses (ICN) and Nursing Now, issued the State of the World's Nursing Report 2020: Investing in Education, Jobs, and Leadership. Released as part of the International Year of the Nurse and the Midwife, the report provides current evidence on the global nursing workforce, outlines gaps in the workforce, and identifies priority areas for investment in nursing education, jobs, and leadership to strengthen nursing around the world and improve health for all.
---
Celebrate National Nurses Month in May

In 2020, the American Nurses Association (ANA) has expanded its annual recognition and celebration of nurses from a week-long event to a month-long observance. Each week during the month of May will have a specific focus: Self-Care, Recognition, Professional Development, and Community Engagement.
Free Webinar ~ May 20
In honor of National Nurses Month, ANA will host a free webinar entitled "Magnify Your Voice — Use Storytelling to Advance Nursing" on May 20 at 1 pm ET. Carolyn Jones, noted master storyteller and award-winning filmmaker, will celebrate nurses and share techniques on how you as a nurse can share your unique story.