Our Mission
Since 2007, the mission of the SUNA Foundation is to improve urologic health care and the lives of people with urologic health issues through funding of urologic scholarships, educational programs, and nursing research.
Trustees
Debbie Buback, MSN, RN, ANP (retired), Chair, St. Charles, MO
Katy Bortel, MS, RN, CCRP (retired), Secretary, Plainfield, IL
Susan Lipsy, ANP-BC, CUNP, Treasurer, DeWitt, NY
Donna Brassil, MA, RN, CURN, New York, NY
Fran Foley, MHA, RN, CURN, Worcester, MA
Cheryl LeCroy, MSN, RN, Mechanicsville, VA
Valre Welch, MSN, CPNP, Spring Grove, VA
Christopher Sellwood, CURE Medical (Industry Representative)
Matt Blasik, National Sales Manager, Sagent Urology (Industry Representative)
Ardeth Hale, CURN (retired), Chair Emeritus, Eugene, OR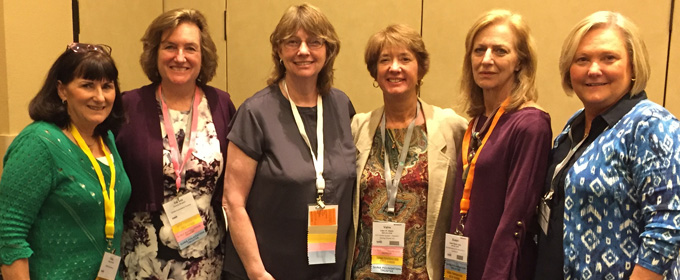 SUNA Foundation Trustees (from left): Katy Bortel, Donna Brassil, Debbie Buback, Valre Welch, Sue Lipsy, and Cheryl LeCroy. (Not pictured: Ardeth Hale).
2021 Silent Auction and Fall Fundraising Activities
The SUNA Foundation hosted a Silent Auction on October 30, 2021, in conjunction with the uroLogic Conference. Congratulations to the raffle winners:
Ann Chinnakotla - winner of Amazon Echo and accessories ($209 value; donated by Valre Welch)
Vic Senese - winner of "Let's Eat" Restaurant Gift Card Package ($200 value; donated by Debbie Buback)
Rosa Williams - winner of Bose bluetooth waterproof speaker ($130 value; donated by Fran Foley)
Fran Foley - winner of "Let's Go Shopping" Gift Card Package ($175 value; donated by SUNA Board of Directors)
Thank you to all who donated or bid on silent auction items and purchased raffle tickets or SUNA Foundation cookbooks. The Foundation raised over $7,100 during the conference (not including several donations by individuals and speakers during the event).
---
Purchase Your Copy of the SUNA Foundation Cookbook
The SUNA Foundation Cookbook contains 215 mouth-watering recipes – everything you need from appetizers to desserts. The cookbooks make wonderful gifts for family and friends as well as chapter door prizes or a special recognition for a chapter member. The cookbook is available for sale in the SUNA Online Store for $17 each (includes shipping).
---
Cherish Celebrations and Memories with the SUNA Foundation
Cherish celebrations of personal milestones, special family events, or even chapter accomplishments with a donation to the SUNA Foundation. You also can donate a memorial gift honoring a loved one, friend, colleague, or patient. Your generous donations help SUNA members achieve scholarships for pursuing education to further the growth of urologic patient care and support urologic nursing research.
Urology nurses care for patients across the lifespan, providing guidance and treatment for a variety of urologic diseases and concerns. Recognizing the need to advance urologic nursing practice and create a continuum of knowledge, the Society of Urologic Nurses and Associates (SUNA) formed the SUNA Foundation.
Committed to propelling urologic nursing care, the Foundation offers many opportunities for SUNA members by funding urologic nursing research, scholarships, and educational programs.
Gifts from donors help urologic nurses and associates research their ideas, further their nursing education, and seek specialized training. Patients ultimately benefit from their expanded knowledge and expertise.